I am a big believer in having routines for yourself and for your children. I realize that this might not be possible for everyone, and to others it might seem stifling, but truthfully I think I'd go crazy if I didn't have some idea of what to expect everyday. And I honestly feel like my children do much better knowing what to expect day to day.
Below I have written out our daily schedule. But to be clear even though this is what I want our days to look like, that doesn't mean they always do. But at least I have some idea of what we should be accomplishing through out the day.
6:00- Me- wake up, eat breakfast, do Bible Study, take shower.
7:30- Nurse Max, start load of laundry, make bed.
8:00- Jack, Anna, and Lily wake up. Get dressed, and head to table for breakfast. Read Bible over breakfast.
8:30- Brush teeth, do girls hair, and "chores." I'll usually unload the dishwasher and clean up breakfast around this time too.
9:00- Max down for morning nap. Free time for older three kids. Depending on the day and what needs to be done I'll either do a job that needs done(laundry, sweeping, putting ingredients in bread machine), or play with the kiddos.
9:30- Read aloud time. I am reading The Lion, the Witch, and the Wardrobe to them while they sit and play with blocks or do puzzles.
9:45- Usually "Lily" time.
10:00- snack. I usually try to get some housework done while they are eating.
10:15- "school" time with Jack. Jack loves to do school, so I'll work with him on reading and counting. Anna and Lily usually sit at the table and color(I don't make them, but they don't want to miss out on anything lol!)
10:30- Free time.
10:45- Anna time.
11:00- Read books of their choice.
11:15- Max up from his nap, and hungry and since I'm a good mom I'll nurse him:) while the older kids have free time.
11:30- Video/art/bake/ free time. Depends on the day!
12:00- Lunch time.
12:30- Clean up lunch, and toy pick up time.
1:00-4:00- Anna and Lily nap. Jack goes down about two to have some quiet time, and usually sleeps from 3-4. Max naps from about 1:30 to 4:00. I usually reserve two o'clock to do something I enjoy and to rest. And at three o' clock I usually have to try to catch up on housework.
4:00- Everyone is up. I nurse Max, and then start dinner. Sometimes I let them help, but other times it's just not safe for them so they'll usually play or color or watch a video while I make dinner.
5:00- Quick clean up.
5:15/5:30- Dinner time, and Erik is home!!
6:00- Family time/free time.
7:00- reading and baths.
7:30/8:00- Beautiful bedtime, and nurse Max.
8:00-11:00- hang out with my hubby, clean up kitchen, finish laundry, and collapse into bed because six o' clock will come far to soon!
Do you have a routine that you follow, or do you enjoy being a little more relaxed about things?
Linked to A Wise Woman Builds Her Home.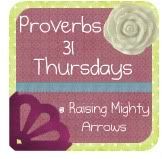 >