"How do you do it?!"
I hear this question almost every day. Grandparents, friends, strangers, and even some of you who read this blog have asked me to share how I manage my little ones. I have thought about sharing some of my strategies here for quite some time, but have always talked myself out of it. I don't want anyone to feel like I have it all together(far from it!) And I also don't want anyone to feel like they have to do things the exact same way I do them.
But I am also aware that many of you read here have several small children, and would like some ideas about how to structure your days. And some of you are just curious about how I survive with four kids under the age of four! So after thinking this through, and some praying, I have decided to begin a little series here. But I can't stress this enough, I don't have this mothering thing all figured out. I have plenty of times where I'm completely overwhelmed. I don't have perfectly obedient children, which is a good thing since they don't have a perfect mother! ;). However, I almost always am able to get a full nights sleep. I am usually able to have time to rest and do something I enjoy in the afternoon during their rest/ nap time. And for the most part I don't feel like I'm depriving anyone of attention.
In this series I plan on covering,
-What I don't do
- Acceptance
- Routines/Schedules
- Wake up Times
- Training our kids in right behavior
- Errands and Grocery Shopping
I am hoping to take the next couple of weeks and cover each of these topics. If you have any questions please ask. And PLEASE if you have any helpful tips to add, please feel free to do so. We can all learn from each other, and I'm very much looking forward to learning from you all.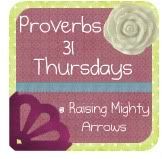 >
And Linked to
A Wise Woman Builds Her Home
.