Two Christmas's ago, we were experiencing a difficult time. I was eight months pregnant with our third child, and we had a one year old and a two year old. In May of that year my husband had been laid off from his job, and we had been trying to sell our house, and having absolutely no luck, all year long. By September of 2009, we weren't receiving any income, my husband was going back to school, and the little we had left in savings was quickly running out.
Needless to say we were stressed.
Our faith felt like it was being tested in almost every way. I had always said I believed God provided for his children, but now I was really wondering if I actually believed that.
A few days before Christmas, my husband and I were going over bills and were faced with the reality that we weren't going to be able to make ends meet. Being able to afford Christmas presents wasn't going to be possible. I can remember praying for the Lord to please provide, and please give us wisdom in how we should proceed from here.
The next morning my mother in law called me, excitedly telling me that the church secretary had given her an envelope to give us. She wanted to know if she could come over right away and give it to us. I told her she could, but I refused to get my hopes up, because even if there was money in the envelope I was sure the amount of our bills added up to way more than any one person could give us.
When my husband and I opened the envelope we found hundreds of dollars in gift cards to a grocery store. Not only would we be able to buy groceries, but we would also be able to buy diapers, wipes, and laundry soap. There was a long letter from an anonymous person, saying they had been in a similar position many Christmases ago when their children were small. Back then someone had anonymously given their family a very generous gift. The person who was giving us our gift said they had always wanted to bless another family the way they had been blessed, and that they had felt led to give to our family.
We were absolutely floored by someones generosity. To this day we have absolutely no idea who gave us such a generous gift. But every Christmas I remember the kindness that was shown to us, and I am reminded that the Lord really does provide for His children.
"But seek first the kingdom of God and his righteousness, and all these things will be added to you." Matthew 6:33
"
"Which of you, if your son asks for bread, will give him a stone?
10 Or if he asks for a fish, will give him a snake?
11 If you, then, though you are evil, know how to give good gifts to your children, how much more will your Father in heaven give good gifts to those who ask him!
12 So in everything, do to others what you would have them do to you, for this sums up the Law and the Prophets." Matthew 7:9-12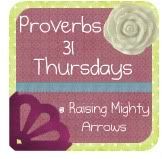 Also linked to A Wise Woman Builds Her Home