I've been thinking a lot lately about friends. Girl friends to be exact. As some of you who read this blog may know my family and I recently moved to a new town a couple hours away from our old town. And while we have found a fantastic church, we are still a ways off from having the close friendships we were used to back home. Keeping all that in mind, I've been wondering a lot lately about the necessity of having close friends.
I don't think I have a single memory of my mom going out with girl friends. She always acted as if my dad, brother, and I were all she needed and never made us feel like she was getting sick of us and needed a night away. And I desperately want Erik and my kids to know how much I love them and not feel like I think they are a burden. However, sometimes it's nice to be around other women who just "get" you. But I almost feel guilty for desiring to have that fellowship. I mean, my husband and kids should be my first priority and they should be my most important relationships. Aren't they enough for me?
But you know, maybe it's not a matter of whether or not my husband and children are "enough." Obviously they need to be my first priority(after the Lord, of course), but I don't think there's anything wrong with desiring to have those friendships. I love being around women who are in a similar season of life(and I really love being around older and wiser women!) It reminds me that I'm not alone, and it encourages me to love and respect my husband and to keep planting seeds in my children's hearts. There have been many times I have come home from a night with godly friends and felt refreshed, and my vision for motherhood has been renewed.
So what about you all? Do you have close girl friends you are able to get together with on a regular basis?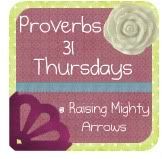 >